Custom Carts and Kiosks
We offer custom fabricated portable carts and permanent kiosks in the Las Vegas area and United States. We have been designing and building custom point of purchase display carts for indoor and outdoor use in casinos, hotels, malls, department stores, special events and venues for many years. Each cart or kiosk can be custom designed to any specific client need or specification and fabricated in house at our 23,000 square foot facility. Our experienced fabrication team and quality control allows clients to receive not only the highest quality in building standards but also a one-year warranty on kiosk or carts which shows Las Vegas Mannequins stands by it's products.
Conceptual Design:
Our sales and design teams have over 30 years of experience in the custom building and have designed hundreds of cart displays and kiosks, large and small. Our designers will meet with you onsite, free of charge, to let you communicate your specifications and needs as well as use their experience to overcome any obstacles or pros and cons that may occur with your ideas. After this information is gathered, our creative associates will develop the best solution for you with a 3D rendering concept. They will discuss these new ideas with you in order to help you better understand the process as well as the best way to stay within budget.
Getting Approval:
Most display carts and point of purchase kiosks need mall or hotel approval of where they will be placed which can be a lengthy process. After you have a design that meets your needs Las Vegas Mannequins will then provide management all thenecessary materials needed such as call outs, structural drawings and material boards to get approval quickly. 
Cart and Kiosk Fabrication:
We use the highest quality of materials on all the display carts and kiosks that we build. We are able to fabricate with quality wood materials, high endlaminates, wood veneers, hard surfaces, metals and acrylics, Each point of purchase display we build will come with a one year warranty on parts.
Installations:
All display carts and kiosks are provided with installation instructions and step by step building plans. If you are unable to install yourself Las Vegas Mannequins is able to provide transportation and installations nationwide for any build. Our skilled installers will work with any schedule to make your point of purchase display cart or kiosk ready for business on time.
Prices start at $2500.00 depending on size and material needed.

To learn more information on our custom cart and kiosk capabilities, please contact our sales staff: sales@lvmannequins.com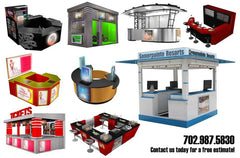 + CLICK IMAGES TO ZOOM
Categories

Shop by Tag

Latest News