Female Plus Size Mannequin
Sorry, this product is temporarily out of stock.
Amber Series - Female Mannequin w/Facial Features & Molded Hair - Matte White Color
Mannequin Constructed from Fiberglass.
Standing Pose with Arms by Side
Includes tempered glass base, 2 fittings for calf and foot, touch up paint & handling gloves.
Height: 71-1/4", Chest: 43", Waist: 32-1/2"
Hip: 43", Collar: 14-1/2", Heel Height: 3"
Please note this item is available online only.  We can ship to you or to our location and hold for pick up.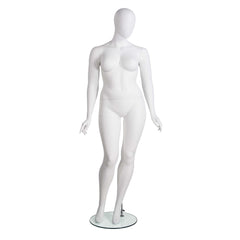 + CLICK IMAGES TO ZOOM
Categories

Shop by Tag

Latest News