Male Foot
LVP215
Sock display for men's socks. Height is to mid calf. Made of linear polyethylene plastic. Fleshtone color. Magnetic/Weighted toe for stability. 
Includes round metallic plate approximately 3" diameter. 
The overall height of the item is 14 ¾ inches.  Heel to top is 11 ½ inches.  Widest point is 3 ½ inches. And the depth (toe to back of heel) is 7 ¾ inches. 
Fits size 10-13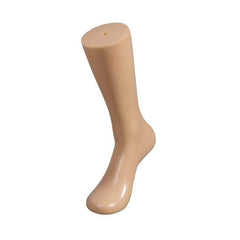 + CLICK IMAGES TO ZOOM
Categories

Shop by Tag

Latest News