Oval Glass Pedestal, Adjustable
This attractive glass oval pedestal can be used as an accessory merchandiser for items such as shoes, bags, jewelry, hats, scarves, etc. Great for use in store windows or grouped in clusters in a department to draw attention to specific items.
Pedestal has an adjustable upright that extends from 32"H to 48"H (1 1/2 lbs.). 
19" x 12"oval table. 
19"W x 11 x 5/16 thick (9lbs.). 
Bottom 19"W x 11 x 3/4 thick (20lbs.) 
Outer tube 1 1/8" Diamete; and
Inner tube 7/8" Diameter.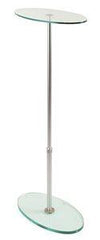 + CLICK IMAGES TO ZOOM
Categories

Shop by Tag

Latest News